Health-conscious Salon Brand
It is our deep conviction that a healthy body is the key to outer beauty. All our products and services focus on health care. We use green and healthy products to improve our customers' hair quality and create great hairstyles and beautiful colors. Our services put equal emphasis on health and fashion and we have therefore developed perming and dying processes with standard conditioning and isolation techniques to maintain the natural softness and shine of our customers' hair.
HAPPYHAIR SPA NO.1 HAIR SPA
Scalp health has always been very important to us. We have therefore developed a large variety of scalp care and treatment products. We combine our premium aroma therapeutic products that are completely natural with unique scalp massage techniques to provide the ideal treatment for every scalp type. We are number one in the scalp care industry due to our professional expertise and techniques.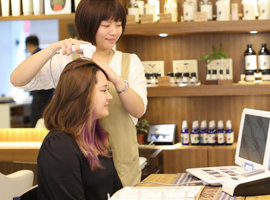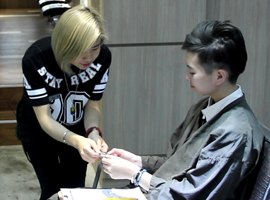 Our stylists carefully communicate with our customers to identify their personal needs and suggest a hairstyle that fits their style and personality. Our services and prices are transparent and our customers don't have to worry about additional charges or fees. When the hairstyle is completed, the stylist will explain to the customer how to develop a proper hair care routine and maintain the shape of their hair at home. Within seven days after their visit, the stylist will contact the customer by phone to inquire about the shape of their hair and their satisfaction with the service provided. These are the cornerstones of our service process. It is our goal to provide our customers with sophisticated and high-quality services, a complete styling process, and transparent prices in addition to a marketing strategy that combines rich cultural connotations with an emphasis on market demands. HAPPYHAIR transcends traditional ideas and patterns in the creation of a new beauty salon culture to give customers a personal and caring service experience.
Beauty made easy with our new membership system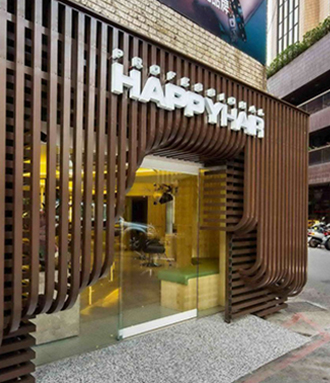 HAPPYHAIR pioneered a membership system that provides systematic services for all members. Besides to membership discounts, all members also enjoy other offers and discounts during promotional months in addition to special updates gifts. The H2-CLUB Bimonthly magazine provides members with the latest fashion news and other types of over information related to aesthetic news. The magazine has a circulation of 100,000 and is geared to female readers who want to stay informed about the latest fashion trends. International media networks and renowned brands are eager to cooperate with this publication.
Member seminars and VIP events beauty from within.
The company organizes free seminars for its members on a regular basis. Topics range from aromatherapy and handicrafts to environmental issues and fashion accessories, giving all members an opportunity to experience the joy of an aesthetic lifestyle. In recent years, the company has also organized screenings of classic movies or films dealing with female issues throughout Taiwan for all members so they can achieve inner both and outer beauty. Our members not only have stylish and healthy hair, they also get a change to learn and broaden their views in a fashion.

Established July 2010
We began our aesthetic living enterprise in 2001 with Escents, a Canadian aromatherapy brand established in 1992. It was followed by the organic Austrian company Sonnentor, Scottish Fine Soaps from the United Kingdom, and other carefully selected brands.
In 2010, we founded "Solar Café" as a way to provide a healthy, non-additive culinary experience; May of 2011 saw the opening of Escents Bookstore, a concrete manifestation of the brand's culture and spirit, and September of the same year marked the beginning of distribution for American organic bedding brand "Coyuchi". In 2014, we further developed the concept of aesthetic living by establishing YIRI ARTS. In the spirit of creating an 「Everyday Art Museum」, we seek to allow art to enter and enrich people's lives. Through curation, exhibitions, publications, and international art fairs, YIRI ARTS presents inspiring works full of vitality.


Established June 2002
Aphrodite Medical Group established its first clinic, Aphrodite Fashion clinic, in June 2002. The professional team of medical specialists consists of former members of the medical staff of Chang Gung Hospital and Mackay Memorial Hospital, and are committed to providing professional medical care and superior services. The Group's medical service package consists of plastic surgery, optical injection, treatment of skin conditions, hair transplantation, and medical cosmetics. Through their professional expertise in the fields of plastic surgery and skin treatment, the team has established a competitive advantage and possesses the ability to provide a complete medical service package. In July 2009, Aphrodite Fashion clinic established a partnership with Taichung cosmetic Center Clinic. Aphrodite Medical Group currently operates five clinics:Aphrodite Fashion Clinic, Aphrodite Ritz Clinic, Aphrodite Beauty Clinic, and Taichung cosmetic Center Clinic. These clinics provide professional medical cosmetic services in the two metropolitan centers, Taichung and Taipei. The Aphrodite medical team not only utilizes superior medical technology, but also strives for constant innovations to provide even higher quality services for their customers. They also actively participate in social welfare activities such as the provision of free medical services and environmental campaigns to make a contribution to the creation of a perfect living environment.
www.aphrodite.com.tw